I have trouble writing these days, meaning I have trouble working on my fiction stuff. It's also affecting this very blog, which kind of sucks. Also explains why I didn't post yesterday (Wednesday) as I had originally planned.
Yesterday was a very unproductive day. All I did was read and watch some TV. And walk the dog… I always have to walk the dog. Brain fog or not, I gotta get up and walk the dog. It's a great thing because otherwise, I'd probably be nothing more than a big blob wasting away in her bed.
Since writing was a no-go, I've mostly been working on something else I can appreciate a whole lot: planning, making lists, setting deadlines. If anything, it helped me realize that I probably am setting myself up for failure. And on multiple fronts, too.
Wait, don't go! Let me explain…
There's an explanation. I mean, I was put on medical leave from work for a reason. I've mentioned this before, but I think it bears repeating: I've been diagnosed with Multiple Sclerosis some years ago. Within two years (I think?), I was put on permanent leave and now, I get disability checks.
That's not an easy thing to grasp, let me tell you. Not only for me but for others as well. You'd meet me, you wouldn't know it. Because I'm not in a wheelchair, or even using a cane. I don't look sick. I could easily be mistaken for someone who's found flaws in the system and is taking advantage of them.
I won't lie, sometimes I kind of feel like that's what I'm doing. Even though I'm not. It's mostly times like this past month that remind me of that.
I like to say that my mind's got the worst of it. And yet, I keep pushing myself to do brain things, like write, do crosswords, etc… my first mistake, maybe? Or not… I mean, the brain is a muscle, so I guess I need to exercise it so it'll keep working, right?
This being said, other than my cognitive issues, I also have to deal with fatigue. To a point where I don't know from one day to the next if I'll be productive or not. Or for how long. And honestly, these days? The littlest thing is like this giant thing I can't get around or even climb.
Remember what I said before? I've been making a list… WITH DEADLINES. See below how that might not be the best of ideas! 😉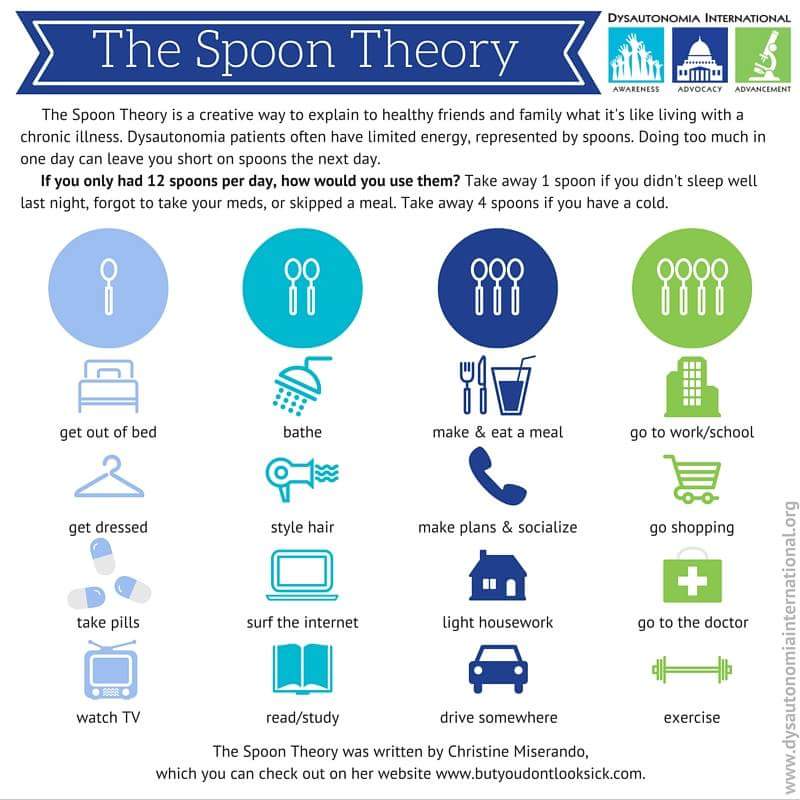 Not everyone agrees with this theory, but I kind of do, solely based on my personal experiences. Before, I'd speak of having a set of rechargeable batteries that couldn't hold their charge anymore. Both analogies work for me.
This spoon theory thing pretty much explains why it is that on days I clean the house, I can't do anything else productive, not even prepare nice meals. Or when I go and prepare meals, I can't really clean up. And when I write, I can't really do either of those things. And that's on "normal" days.
On good days, I'll be able to do two out of three. On the bad days? None of it. And this last August was a string of bad days, thanks to a stupid cold (see, it says a cold takes about 4 spoons… stupid cold!). Didn't write much. Didn't clean much. Didn't eat right. And now, it's gonna be that time of the month again and it'll be even worse.
TMI, I know… still, it's my reality and sadly for you, I'm sharing stuff today!
So yeah, if that whole thing isn't setting myself up for failure, I don't know what is. And I've only been doing list stuff for the blog (so far). Even though the blog should NOT be my main concern in the writing department.
See, I also write fiction. The novel-length type fiction.
Good news? I have one already done, pretty much finished. I had put it on the Internet, available for everyone to read for free, but I decided to take it down. Not only would I prefer to go the traditional route and have it published, I also don't like the ending all that much anymore.
So that's one re-write I have to work on. And then I'll have to find a way to have a professional editor take a look at it AND PAY THEM FOR THEIR WORK! (That's another deep issue I try to ignore for now.)
Then I have this other novel, something quite different that's more like a fantasy type thing. The first draft is about half-way done, and then I'll have to edit it myself, then have it professionally edited so I can try and get someone interested in publishing it.
That's not all, no. There are short stories I should be working on also. Not only should I be writing more of them, I should also try to send some out to contests and stuff. And even if I don't do that, I would still like to try and write more so I can publish them here for you guys to read. I'd love to be able to do this once a month. That'd be nice, wouldn't it?
It would be, but that's a lot more work… more than I can handle, I'm sure.
I have so many more ideas, it pains me to think about that… want to write about a Wiccan-centric trilogy, an interactive type of novel (this, I'll talk more about when I can actually work on it, and when more people start following this blog), have many "one-shot" novel ideas…
I can't forget about the blog ideas either… ideas that mean I will sometimes have me reach out to my subscribers to ask questions (when I get enough subscriber, that is). Ideas that might involve me interviewing people on different subjects. If I don't get subscribers, I'll then have to bug my friends.
I'll admit, I was struggling to find what to talk to you about this week. Mostly because I felt the need to tell you what was happening with all the new stuff. And I thought that maybe you'd like to know what's in store for you as a reader.
And now, I'm worried that telling you about my "struggles" might in fact convince you I'll eventually abandon this website, and you in the process. I honestly think I'm too far down the rabbit hole to turn back now. Maybe some areas will suffer at times, but writing is a need for me. It's visceral. And I need to write other things than fan fiction. I need to be telling my own stories.
Maybe it will help that I try and write shorter posts. Try and pace myself.
HAH! Pacing myself, that's a funny concept. Being concise in my writing is not something I know how to do, unfortunately. Maybe that could be my goal, write shorter blogs. Pretty sure some would appreciate that! lol
Clearly, I won't be starting with this post right here, but I need to keep this in mind. Also, I have to find a way to insert some nice visual elements when I go on a word spree. Like the following: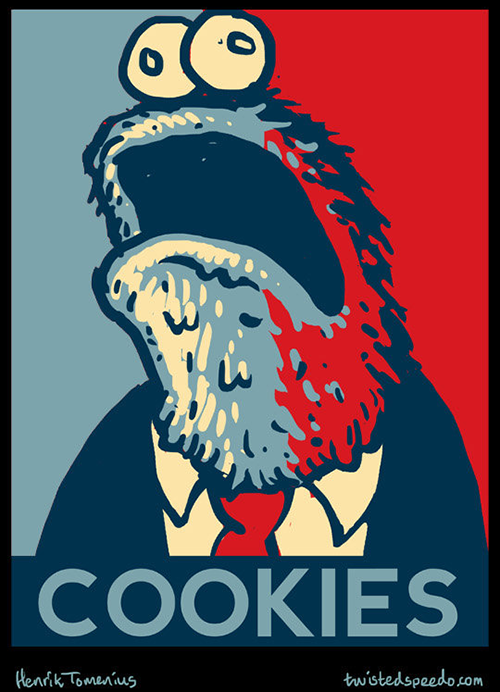 You're just lucky there's not "gif" button on here, otherwise, I would have sprinkled them all over this post.
I promise next week's post will be much more entertaining, I already know what it's about. The beauty of planning! (But only if I can muster the energy to work for it as it involves food and me making it! Lol)
I wish you a very nice week, and I'll see you again next Wednesday.
In the meantime, don't hesitate to ask questions, comment, subscribe, or even share if you like what you've read. You can even talk to me in French… I'll answer ya! (Any other language works too if you're not too worried about Google Translate helping me out! 😬)