I wish! If not a thousand songs, I can safely say that some have the potential to be worth a thousand feelings. Or maybe that's just me…
When MTV became a thing, I was already born. Still a kid, but old enough to kind of witness the birth of it. To a certain extent anyway… it's not like we had cable. Or did we? We might have, I honestly don't know anymore.
Not to say that music videos never existed before that, but my generation and I did benefit from the explosion of creativity that followed. I mean, as a teen, I would spend hours watching the French Canadian version of MTV, Musique Plus.
I still have a couple of videocassettes lying around that are filled with all the videos I liked at the time. To be honest, it was mostly about the actual music, using the VHS tapes as I would a cassette tape, recording my favorite songs to keep them forever.
That's right, cassette tapes. I'm THAT old. I would keep a tape ready to record when I went to sleep, keeping the radio on so I would wake up when a song I liked came on. And I would wake up, and I'd press record.
Those were the days!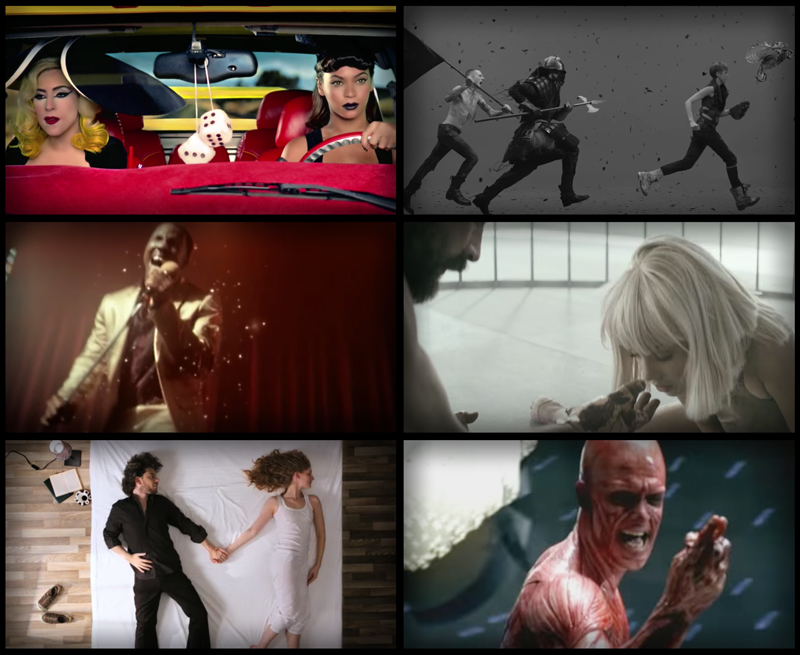 As an adult, my love of music hasn't faltered, it's just easier to find what you want nowadays. I don't watch MTV (or Musique Plus) anymore… not only am I not sure they play all that many video clips, but I don't have cable so I don't really know.
So I guess Youtube is where it's at, for me anyway. I'll be honest, video clips will often be the main reason I'll end up liking a song or an artist. Like my appreciation of Lady Gaga has its roots in her videos. I can't say I like all of her songs, but those I do appreciate usually have very interesting videos. Mainly, Telephone, featuring Beyonce.
I mean, it's almost ten minutes long. And so entertaining visually, bright and lively, and I just love it. Doesn't matter that I don't care for Beyonce's music all that much, I have to admit that I do kinda like her there. I did try to watch their other collaboration, Video Phone, and sadly neither the song nor the video worked for me. 
• • • • •
If the first video is visually stunning (in my opinion, anyway), I also love stuff that can be a little more subtle. This next one from Les Trois Accords is a great example of what I can only call delectable dissonance.
Not only isn't the guy in the video an actual band member, he's also very far removed from what the song is actually about. Sadly for you (maybe), the song is in French so unless you understand it, you won't know what I mean by that.
Before you click to watch the video, you should really take a second to look at the lyrics' translation. Only once you know what the song is about will you have a better chance at understanding why I find this video's amazing.
I really like this French Canadian band… they tend to sing about whatever crosses their minds. I mean, there's a song about a guy saying how he's in love with his friend's grandma. Or that other one which title translates to Her name was Serge.
I can find them wildly entertaining… when I'm in that particular mindset, anyway.
• • • • •
Sia's Elastic Heart makes this list for a whole other reason. I don't hate the song, but I don't really ever listen to it on its own. And, quite frankly, I don't even watch the video all that often either. So why is it on this list, you ask?
Because every time I see it, I cry. The first time I saw it, after hearing about all the uproar it garnered, I sobbed. SOBBED.
I'm still not over the fact that some people saw something sexual in Maddie Ziegler's and Shia LaBeouf's performance. To me, from the very beginning, it was all about a father-daughter relationship (which has since been confirmed by the singer herself).
And, well… this is the kind of stuff that makes me crumble the way I did. And every single time I watch it, I get emotional, so I kind of avoid it.
And yes, I cried again when I went to pluck it from Youtube. See how I like to suffer for you?
• • • • •
This first time I saw the following video, I honestly thought it was an ad for some kind of epic video game type thing. Maybe because it was used in an actual video game trailer back in the day: Assassin's Creed Revelations.
I don't play video games. Not this type, anyway. But I'd heard of Assassin's Creed and I might have stumbled upon Woodkid's video with the name of the game in the description or something. Because, after watching the trailer I linked above, I'm pretty sure I've never seen it. (I could also have forgotten seeing it, let's be honest here.)
Anyway, I eventually realized that the video below was the song's official one, and I find it beautiful. I love everything about it, how both intense and subdued it is. Although I did buy the album and listen to it regularly, I will also need to watch the video from time to time. It's just so visually pleasing, you know?
• • • • •
I love this next one so much… again, it's kind of dated now, but the artistry of it just speaks to me. Or maybe I just like the song a whole lot. I did go and buy Oren's album after seeing this.
I appreciate how simple it looks, even though I know it's quite a complex thing to achieve. If that kind of stuff interests you, there's a short Behind-The-Scenes video you also can watch.
There isn't much more to say about it… you probably even saw it already, seeing as it came out in 2010. It was either that or Gotye's Somebody I used to know, which I believe most people can't bear the thought of hearing anymore.
(Say what you will, not listening to the radio all that much does mean that I get to enjoy some overplayed songs for longer than most. In other words, I'm one of those who can still appreciate that tune!)
• • • • •
Robbie Williams… I'll admit, I'm not the biggest fan of his. I mean, I like him, but I literally can count on one hand the number of his songs I really like. This, and the crooner album he came up with years ago.
This being said, the song for the video below isn't one I go out of my way to listen to. Not unless I'm watching the video.
What I mean to say is I appreciate it solely for the visual if offers. You would think that it's because we get to see Robbie pretty much naked (which, okay, is a non-negligible aspect of it), but I mostly find the whole thing hilarious.
I love how Robbie gets offended by women not caring all that much about him and his looks. It's hilarious. And then, he starts ripping off his skin and muscles and I just cackle like a mad woman. Of course, I'd see this shit happen for real, I would probably be losing my lunch, but it's not real so I love it to bits.
I mean… how can a bloody skeleton dancing not be funny? I wouldn't know.
P.S.: If you've never seen this video, you might wanna wait until you're not in the office to watch it. Or you can do whatever… I'm not your mom!
P.P.S.: To be 100% honest, my real favorite video of his is the one for Feel. Not only do I love the song, I just live for the video. It's beautiful, and let's be honest, Robbie looks quite handsome in it. Still, I think Rock DJ is much more original, which is why I chose that one.
• • • • •
Of course, there are many more videos out there I like. Some I probably don't even remember right now and that I will regret not sharing with you today.
I also decided not to speak of those super popular and rather old ones, like Michael Jackson's Thriller, per example (which is, of course, a masterpiece). There's also probably more recent stuff I'd like even better, I just might not have seen them yet.
Mostly, I tried to share things from those artists I usually wouldn't talk all that much about. Not because they're not good, but only because they're just my favorites.
The blatant exception here is Sia… you'll hear more about her from me in another blog post I've been planning to write. This video was just too important for me not to share today.
Oddly enough (because the idea of writing this very blog post came to me Sunday Monday morning), I dreamed of my deceased father the night before. It was a better dream than any other I've had in the year and a half since his passing.
Which might explain why my brain probably made an immediate connection with Electric Heart and then… that's why you get this here.
I'd love to know which are those music videos that you just love, not solely because of the songs, but because of the videos themselves. Something you find beautiful, that moves you, that amuses you, or maybe even shocks you.
Hopefully, my little list, if it didn't make you discover anything, will have helped remind you of something you once liked.
I have something a bit different in mind for next week's post… I'm already excited to start working on this. Can you try and venture a guess about what it's going to be about? I'll probably be posting clues on my Twitter and/or Instagram in the next week… keep you eyes peeled.
See you again next soon!