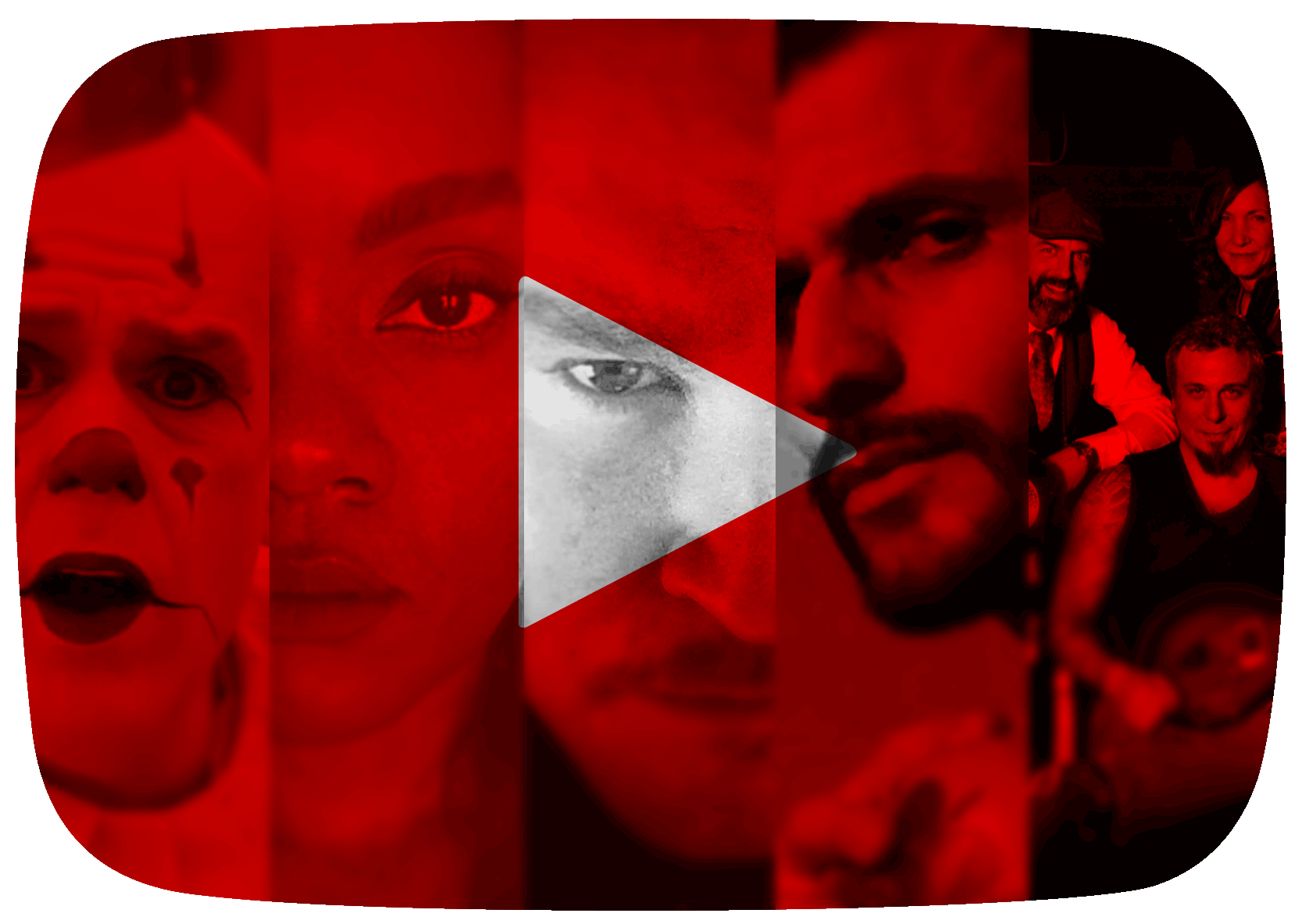 I'll be honest, I kind of struggled to find something to talk about this week. Until I did what I always do, which is go through the new videos of my favorite youtubers before going to bed. I was both surprised and delighted to find a new video from this singer I've been following for a long time. And then it hit me: I needed to tell you guys about those artists I follow and love.
Unlike this post I made almost two years ago, the following Youtube channels will solely be musical ones. Not saying they don't do anything else, but it is the reason I follow most of them. Oh, and since I spoke of Superfruit in that other post, I will refrain from doing so this time again. Even though I just did, and that since then, they came out with numerous songs, two albums worth. Just go take a listen, I'll wait here.
… *twiddles thumbs*
Okay, now that you're back, let me introduce you to a couple more musical channels. Some are more popular than others, but sadly none are as popular as they should be. Do I believe that talking about them will get them thousands of new subscribers? Hell no, I don't! I'm lucky if I even get twenty reads on each post, something I'm hoping might change in the near future. I mean… sucks to write if nobody's gonna read it, right? This thing's not a diary, after all.
Still, if I can make even one person get interested in those incredible artists, then my job here will be done. Not that I get paid to do this or anything.
Good news, though… it's all pretty recent stuff this time… are you as excited as I am? Then let's start, shall we?
MISHAL MOORE
Image source: Twitter
This video here is what inspired me for this week's blogpost, the ever so talented Mishal Moore publishing a new video just two days ago, as I was struggling to find what to babble about. As soon as it started playing, I was done for. I had seen the light, I knew what to talk to you guys about.
I've been following Mishal's Youtube channel for many years now, from the moment I saw this video. I fell in love with her voice and style in a heartbeat, and my love hasn't faltered since. I even bought a couple of albums back in the day, when I had more money to spare than I do now. And every time she comes up with something new, would she be working alone or with other people (one of whom also finds a place in that very post), I'm there for it. And I'm loving it.
I have to confess something… even though I wish more people knew about her, I also kind of like the fact that she's not a mainstream artist. It's as if I'm trusted into some kind of secret whenever she comes up with new stuff. Except it's the kind of secret I can't help telling others about it's so good!
I'd love to see her on stage someday. And unless she comes to Montreal, I doubt it's ever going to happen. Unless I get the cash to travel around. Because, I would travel for the artists I love.
RICHARD CORTEZ
Image source: Facebook
I think it's only fitting that I talk about Richard Cortez next, seeing as I probably never would have known of him without Mishal Moore collaborating with him. At some point in time, not so long ago, they came out with an EP under the band (duo) name We Are Baker. Not unlike it happened with Mishal, I fell in love with Richard's voice… it's smoky, it's rich, and it's amazingly deep. And although I love the whole album, it was this song that did me in for him. The video I just linked you to is actually one for two songs. I'm talking about the first part, when he sings alone. Every time this gets a turn in my playlist, I have to stop and listen. Well, all the songs from that EP are just hauntingly beautiful. Just have a listen, you'll understand. They're on Spotify, if you're into that sorta thing!
For a long while, nothing new happened (or I just didn't know about it). Then I decided to check up on Richard to see what he'd been up to. Found his Facebook page to see he was about to publish a book of poetry. Then he came out with some new music during this last year. And from what I can see now, there's a second book of poetry in the works. I'll admit, I'm not a fan of poetry, not unless it's in song format anyway. Wish I was!
All I can say is that his voice is just as soothing as ever and I hope I'll get to see him live at least once. Maybe I'll be able to go to New York again, finding a way to time my trip according to his schedule. Really, this needs to happen in my lifetime, I have to be able to bathe in his music. (Yeah… I said it… bathe!!! If I could marry a voice, his would no doubt be a serious contender).
I swear! I'm no crazy groupie-type girl. I do get overwhelmed with beautiful voices and music, though. Guess I'm just wired that way. And, well… his voice does things to me… an eargasms type of things!
Source: Youtube
Let's talk a bit about a man called Vilray (pronounced Vil-Ree). I just love how vintage and soft his voice and music sound. The kind of stuff I'll listen on a slow morning, sitting on my swing with doggy napping on my lap, a soft breeze blowing through the trees that would add to the magic of it all. And you know what? It would work just as well if I were to be sitting (or lying in a hammock) on a beach with a backdrop of waves crashing onto the shore.
(What the hell is wrong with me? I just told you I'm not into poetry… gosh!)
What I mean to say is that this man's singing is magical. It takes you places. I can understand that it's not everyone's style, but if you're not against anything recorded in the first half of the 1900's, then you just might appreciate this. I wish I could tell you what style it is exactly, or what other artist it would be similar to… I can't (or, I'd rather not tell you stuff that's awfully wrong). This video by youtuber/musician Become The Knight (which is how I heard about this amazing artist in the first place) does a better job of explaining it, because Mike knows a whole lot more about music than I do. I believe my role in this life is to enjoy the music (and whatever else) without asking too many questions as to why I do. I'm lazy that way!
There are a lot of videos to enjoy on Vilray's channel, so do yourself a favor. Go through it all, the covers, the original songs, everything! And while you're at it, if you like what he does, you might just want to his website and treat yourself to some of his music. I myself wish I'd known about him earlier than I did, if only to be able to introduce his stuff to my dad. He would have loved it, I'm sure.
Note: I would LOVE to be including Become The Knight into this post, except I can't. Not at this moment, anyway. He's a very talented musician, please do not doubt this, and he does appreciate the same kind of music I do (often enough, anyway). His music isn't the reason I started following him in the first place, is all. Still, do yourself a favor and go have a look see through his videos. He's made his fair share of covers, too. But mostly, I dig music snobs! (I'm not throwing shade here, he calls himself that!)
Source: Facebook
I can't believe I almost forgot Puddles! How could anyone FORGET about Puddles? I mean, I was writing my "outro" when it dawned on me… where the hell was Puddles? Which is, sadly enough, kind of fitting when you know a bit about the character. Really glad I managed to remember, though. No need to make this singing clown even sadder than he already is, you know?
If you've never heard of him, I'd say you're in for quite a treat. Or maybe you know him thanks to his (too brief) stint on America's Got Talent (go to 2:15 for the actual performance, although it's nice to see it all to get what the character's all about).
I'm proud to say I've been following him since a bit before that, ever since I stumbled upon the Postmodern Jukebox channel and onto this cover of Mad World featuring him and Haley Reinhart (American Idol Season 10 alumna). If you have to go and watch any of the videos I've linked in this post, it's the one of that particular duet. Please, I beg of you! He's great, but her voice… damn! Chills, I tell you! CHILLS!
Ahem… sorry, I believe we were talking about Puddles.
He also sings covers, in his own "sad clown" way most of the time (even changing lyrics at times). Because, when this man performs, it's in character. I know it's possible to find stuff from the guy hiding beneath the costume, but I'd rather leave it up to you to decide if you want to ruin the magic or not. I know I myself enjoy the concept even more than I enjoy the man's voice, no matter how nice it is. It's a package deal for me.
Source: Youtube
All right… this is me cheating. To some extent, anyway. I mean, Greenwoods & The Grass do have a Youtube channel. And a Facebook page. The difference is that I don't know them from any of those places, but rather through a friend of mine who's an old friend of the guitar player. Which means they're a local band, working mostly (only?) in the province of Quebec (it's in Canada, if you're not sure where that is). So yeah, I'm kind of tweaking the rules for this last entry.
You should know that I'm not mentioning them because they asked me to. Again, with barely 20 reads per post every week, I wouldn't be able to publicize shit even if I wanted to. I only truly appreciate them and was lucky enough to see them a couple of times live already.
They work a whole lot, playing in small venues, bars, restaurants (that might double as bars in the evening). They're even set to play at a coffee place near my home next August, and I intend to go.
Maybe.
I mean, going would require some kind of socializing when I'll be all by my lonesome, but it also means COFFEE. There's a big chance the coffee argument will win. And, well… if both singers are amazing, I have to admit that the guy's voice is another one that does things to me. What can I say? I'm all about voices, apparently! So, THAT voice plus coffee? That's a little slice of paradise, if you ask me. (Add some pecan pie to that and I'm ready to cross over to the other side… geez… that got depressing real fast!)
See? Now I CAN'T go! I'd be MORTIFIED to face them if I ever learn that they've read this. And yet, I choose to change nothing… oh well! Que sera sera!
Another interesting thing about this band is that there are two iterations of it. A trio, which I've seen live, and something that's more like a legit band, or a quintet if you will. The trio is guitarist Sébastien Boisvert (Green wood in English, get it?) and (mostly) singers Dominic De Grasse and Annie Martin (all pictured above). Add the other members Étienne Monast-Dextrase and Philippe Lussier-Baillargeon (sorry, can't say who plays what) and you got the whole band.
Just like Puddles, they're a cover band (as far as I know, they don't have original songs, but I could be wrong about that). And if they don't cover anyone in particular, they usually go for great classic songs they make their own, often with some kind of bluesy twist. And I do love my blues. I you also like that, you really should give them a listen.
There might be more to see on their Facebook (some are vlogs, in French, just so you know) than on their Youtube. But, seriously, if you're able to see them live (see their Facebook for details), I totally recommend it
One thing is certain, it's that there's a lot more great channels out there and if I were to take the time, I would probably find even more to love. The Internet is vast, people, I need to sleep sometimes. Most of the time, I'll stumble onto artists by accident, or through other channels. And that's all right, I guess. If you're ever willing to share those music channels you love, please be my guest.
I also know that there are a lot of really popular channels, some of whom are destined to become very popular artists like Justin Bieber, per example. Or even Troye Sivan. Which is fine and all, it's just that what "pop artists" will do, it's usually not my cup of tea. Told you before, I'm a coffee girl.
There are many other channels I could have talked to you about like Walk Off The Earth or Polyphia (this is perfection to me) whom I've actually seen opening for Coheed And Cambria before following them on Youtube.
I'll never have enough time, or enough words, to talk about the music I love. I'll just have to keep writing posts about it. Over and over again. Please don't let this deter you in reading and/or subscribing to me. I PROMISE I can talk about other stuff… like movies… or food. Can also talk about coffee if that's what you like.
All right, I'm done, I've gone long enough. Please be safe, be good, be your amazing selves! I'll see you again next Wednesday for yet another ENTICING blog post!
Yeah… I really crack myself up sometimes. 😉