I swear I do go out. I don't do it often, not as often as I once did, but I do. And I'm not talking about hanging out with my friends, going to the restaurant, or spending the evening in a karaoke bar. This, I do once in a while and it's great.
What I actually mean to talk about is going out for specific events, like seeing a band, or a comedian, or even a play. Something that I would usually have to buy a ticket in advance and wait on pins and needles to go see.
There was a time when I would go see shows or even go to the movies on a regular basis. Most of the time, I went by myself without giving it a second thought. Not only could I go see whoever or whatever I wanted, I could sit or hang out wherever the hell I wanted. 
Until I got kinda old and ill, I guess. Fatigue settled in, as did depression, with a dash of social anxiety… but the worst has to be a growing lack of money due to not working anymore. Don't think I've been to the movies in years, not until a couple of months ago when I went to see the latest Jurassic World flick with my 5-year-old nephew.
No worries, I had parental consent, and it went smoothly. I was the one that got bothered and cried, but that's another story for another time.
As for shows, music or otherwise, I've seen a bit more of them in the last years. Usually not alone though, as most of them have been gifts. I saw The Cure (amazing), François Bellefeuille (a French Canadian comedian I adore) and even saw Stabat Mater, a ballet performance by the Grands Ballets Canadiens.
All of this to say that I have procured myself tickets for TWO shows coming up in as many months. Something I haven't done in a while (if we totally ignore that I went to my first and only convention last Spring… but that's different… I'll talk about it another time).
One for a band that I would never forgive myself not to go see (I give you one chance to guess), and one for a band whose tickets were so cheap it'd be dumb of me not to go. Especially since I like them, you know?
The first upcoming show – did you get it right? It's Coheed And Cambria, of course! September 21st, right here in Montreal. I honestly feared they'd never be coming back because I don't believe they had sold out the small venue they were at last time. Infinitely relieved they are indeed coming back, you have no idea.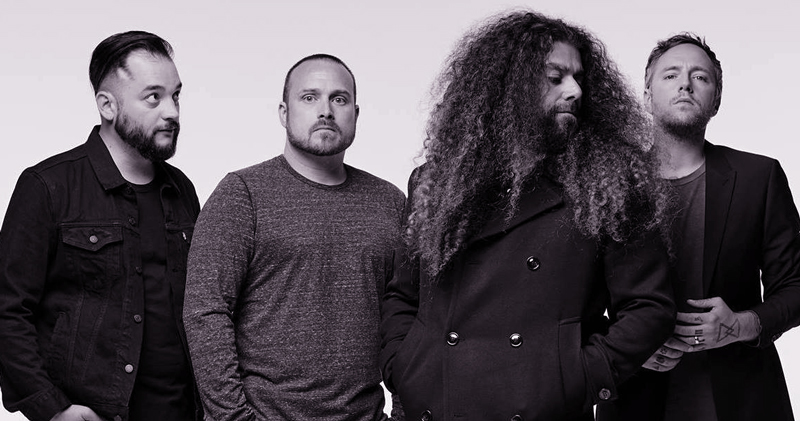 They are THE band I can't neglect to see. Not ever. I bought my tickets the minute they were on sale, being able to do so before the general public because I'm a fan and had privileged access. (I intend to tell you more about my "relationship" with them in another post to come later this year. Not to worry, it won't be like this one, it will only deal with a certain aspect of it.)
Yes, I've seen them live before. Three times, or maybe four. (Did I tell you my memory was shitty? Or maybe you forgot, just like me?). And this time, just like the last, I splurged on the "Platinum" ticket. Which is the sole reason I'm kind of glad they aren't that popular here because those tickets are CHEAP if you consider all that comes with them.
I get to meet the band, have them sign stuff, take a picture with them, receive some trinkets, see an "exclusive" performance before the actual show starts. All for about a hundred and forty bucks.
Now, imagine how much that would be if we were talking about Metallica or The Rolling Stones, or whoever else is mighty popular out there (I'm old and mostly not into popular music, gimme a break). There's a ton of artists I'll probably never see because a single ticket – one that's not all the way up in the bleachers – will cost anywhere between $200 to $500.
In less than three weeks, I'll get to have MY FAVORITE BAND sing to ME (shut up! It's all for ME!) and I won't even have to whip out a pair of binoculars to actually see them.
So yeah, okay, I'll be standing the whole time, brushing against a slew of sweaty strangers, and my feet will hurt like hell because I'll wear those high heel sneakers I like (I'm short and they look dope), but it'll still be the best evening ever.
The only downside, if there is to have one, is that they're touring for their next album, which only comes out in October. There are three singles out already (hopefully four by the time I get to see them), but it's not the same thing, you know? They might decide to play stuff that has yet to come out and I always have this weird issue with their songs. (Well, them and most artists I love, weirdly enough.)
Often enough, my first listen won't go so well. I can't explain it. It doesn't stay this way, seeing as by the second listen I'm already starting to love the songs. I'm just worried I might not be able to appreciate the new songs fully if I haven't heard them at least once before (who am I kidding… it's never only once).
All I can hope for is that they won't play too many songs that haven't come out yet. But frankly, I don't think they will. Only because of all the shows I've seen, they don't only play the newer stuff. They play it all… well, not all-all, but you know what I mean. I've seen shows (can't say who the artist was anymore) that if you hadn't bought and listened to the last album, you didn't know a single song they played. And that kinda sucks.
While I got you there, I might as well share the first single that came out, and this one I loved instantly. I had it all, the eargasms, the chills, the goosebumps; I even cried a little (not even kidding). For me, it's Coheed going back to that universe I fell in love with.
BUY TICKETS TO SEE COHEED AND CAMBRIA 
IN MONTREAL • SEPTEMBER 21, 2018
• • • • •
The second show I'll be seeing is Polyphia. Once more in Montreal, on October 30th. I'm not sure anymore if I ever mentioned them on this blog. I know I've been planning to speak of them more specifically in the near future, along with other artists.
It's a band I've came across with when they opened for Coheed and Cambria (how odd… them again!) last time they were here (I think). There were two opening bands that night, but I can't remember a single thing about the other one (sorry!). What I know is I did like Polyphia a whole lot.
Well… liking them wasn't that much of a certainty, at first. Because it was different, probably. What I knew for sure was that I was deeply intrigued. I mean, it's not everyday that you get to see an instrumental metal band. Prog Rock? Prog Metal? I don't know, I really hate to have to categorize music. They're somewhere in there.
It wasn't my first experience with instrumental metal, seeing how I've been fond of Apocalyptica for quite a while… that's another show I've seen that pretty much threw me out for a loop when I saw it. Best. Show. Ever! I'd love to see them again someday.
Anyway, yeah… just so you know, the instrumental thing is pretty much the only thing these two have in common. Especially since Apocalyptica has collaborated with singers over the years to come out with "legit" songs. Frankly? I like some of those, but I still prefer the instrumental stuff, but that's me.
Since I bought my tickets (which is actually two days ago), I've been listening to Polyphia on Spotify, just to familiarize myself with all they've come out with so far. As I write this, I haven't heard anything to dethrone G.O.A.T. as my absolute number one. 
Not saying the other songs aren't good, I just have yet to hear anything that tugs at my heartstrings the way this one here does. I can't explain it… it's just the most beautiful thing I've ever heard. I'd even go see a show in the sole intent of seeing the band do this one live.
Not that it's what I'm doing… 
BREAKING NEWS: I've stumbled upon this other one as I was writing, it really made me stop and listen. Might be going to see this show for two songs now! lol (Only kidding… I'm going for ALL the songs.) There's also Impassion that's pretty awesome… But I'll stop here otherwise I might just start linking all their damn songs in this post!!!
BUY TICKETS TO SEE POLYPHIA 
IN MONTREAL • OCTOBER 30, 2018
• • • • •
I know I will see Coheed for sure, mostly because my brother also got tickets, as did his girlfriend and his best friend. I'm not alone. I have people I KNOW coming with me. This alone should help if I ever start getting anxious about going out. Plus, it's Coheed… I mean… it's a given that I'll be going.
As far as Polyphia goes, I know there's a chance I might find myself not feeling well enough when the time comes. And I really don't want this to happen, because I'd love to see them live again. Except, I have nobody coming with me. I won't be letting anyone down but myself if I decided to stay home.
Sadly, I'm the person I care less about letting down. It wouldn't be the first time I buy tickets for a show and elect not to go at the last minute. (It's kind of become a running gag among my friends… pathetic, huh?)
A friend of mine reminded me recently how we both had tickets for Björk and didn't go, many years ago. BJÖRK, FFS! And while we reminisced, I had to admit that I would probably make the same decision today. Mostly because Björk is always here for outdoors shows. Huge places directly under the sun (or rain) with no seating.
I'm much too old for that crap!
So yeah, I'm no stranger to buying tickets and not going. It's happened before (either by accident or design), and it's gonna happen again. And the reason I bought a ticket for Polyphia is that it was only $23. It would suck not to go, but I'd only be losing $23 (plus $4 in handling fees). I can live with that.
How about you? Do you like to go see shows? What's your next one? Who would you love to see and still haven't been able to?
I'd love to know what you have to say… comment here, hit me up on Facebook, Twitter, or even Instagram. You can even write me an email, just press those little icons at the bottom.
I'll see you again next week. If you don't want to miss my next posts, you can always subscribe. LET ME INTO YOUR LIFE!!!! 
Ahem… all right… see you next week! 😉