I want to start off by saying that despite my last name, I'm not really a chef. I'm not a baker either, although I do like to dabble in preparing food, whatever it may be. When I have the energy, that is.
I also have a definite interest in the Paleo diet. I tried to "live" by the paleo lifestyle a couple of years ago, and it worked wonders. Lost a bunch of weight and I could have kept going if it hadn't been for how costly it can be, both in money and time. It's a whole lot of cooking and, as I explained in last week's post, it's not something I can always do.
Also, I did come to miss legumes quite a bit (not something I thought I'd ever say). I mean, I love chili… all meat and veggies chili is nice enough, but something's missing, you know? Also, as a slightly lactose intolerant individual, I had welcome the lack of dairy. Still, I missed it, and there's a bunch of lactose-free products anyway.
All of this to explain where most recipes I'm sharing today come from. Doesn't matter that I don't HAVE to eat paleo, I still try and make recipes that can be on the healthier side. Who cares if the recipes are paleo? They worked nicely for me, are fairly easy to do, and they taste great.
By the way, don't be startled by the "Pro Tips" below. It's not me saying I'm a pro, I just feel it sounds better than "Amateur Tips".
So… let's get started, shall we?

KALE CHIPS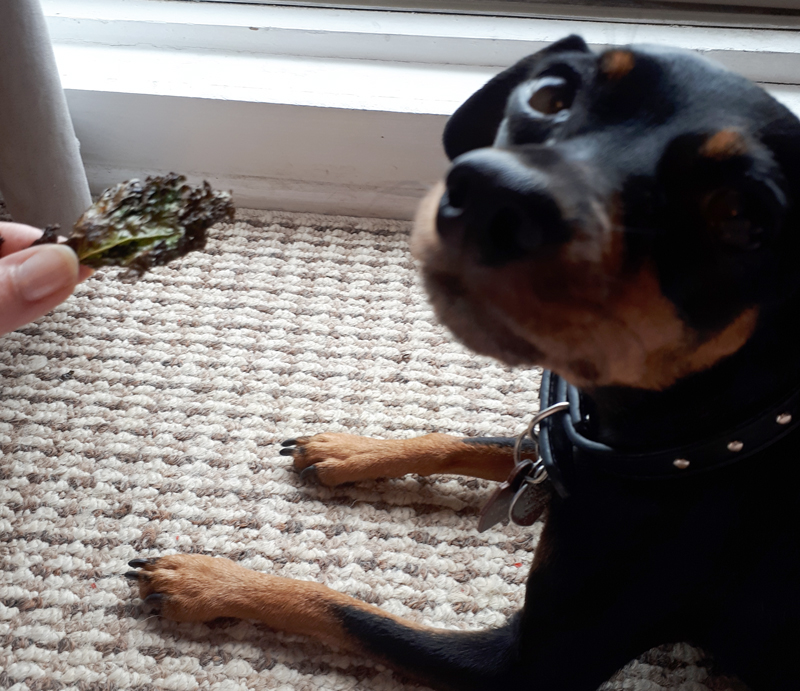 First, I need to come clean about something: I'm not as much of a kale lover as I could be. I don't hate it, but I find it too… chewy, or even stringy? Would it be raw or cooked, I mostly have a problem with the texture.
Now, kale chips are a different story. When they're nicely baked and seasoned, they're amazing and Goliath the miniature pinscher (pictured above) agrees. I'd even go as far as saying that they're as addictive as regular potato chips. Or Doritos… love me some Doritos.
I can't find the original recipe I found back in the day (haven't been looking it up to make the chips anyway), so I can't share a link. Luckily for you, it's easy enough that I can write the recipe up myself. No need to worry, the other snacks have legit recipes I'll be referring you to.
Because, as I realize, writing up recipes isn't as easy as I thought. Not if I want anyone else but me to understand, that is. And the creators of said recipes deserve the acknowledgment.
What's great about this is that you can eat a whole lot of it and there won't be that many calories overall, in case it's something you keep an eye on. Just be careful, though. Too much kale tends to give me stomach issues, so you might want to mind that as well.
This being said, you really should try it and, like I did, experiment with the seasoning. You want those chips to taste a little cheesy? I'm told adding nutritional yeast might achieve that… healthy AND tasty!
~ Recipe ~
INGREDIENTS:
Kale (a whole bunch)
1 Tablespoon of nut oil (I used walnut, but olive might work too)
1 Tablespoon of tamari sauce (or soy sauce, or coconut amino)

INSTRUCTIONS:
1. Preheat oven at 350˚ and line a baking sheet with aluminum.
2. Remove stems from kale and rip leaves into smaller pieces.
3. Drizzle oil and tamari over leaves and "massage" them. Spread the leaves on the baking sheet. (The kale will shrink as it cooks).
4. Put in the oven for 15 to 20 minutes. Make sure to check often and spread the leaves around so they don't get clumpy or burn.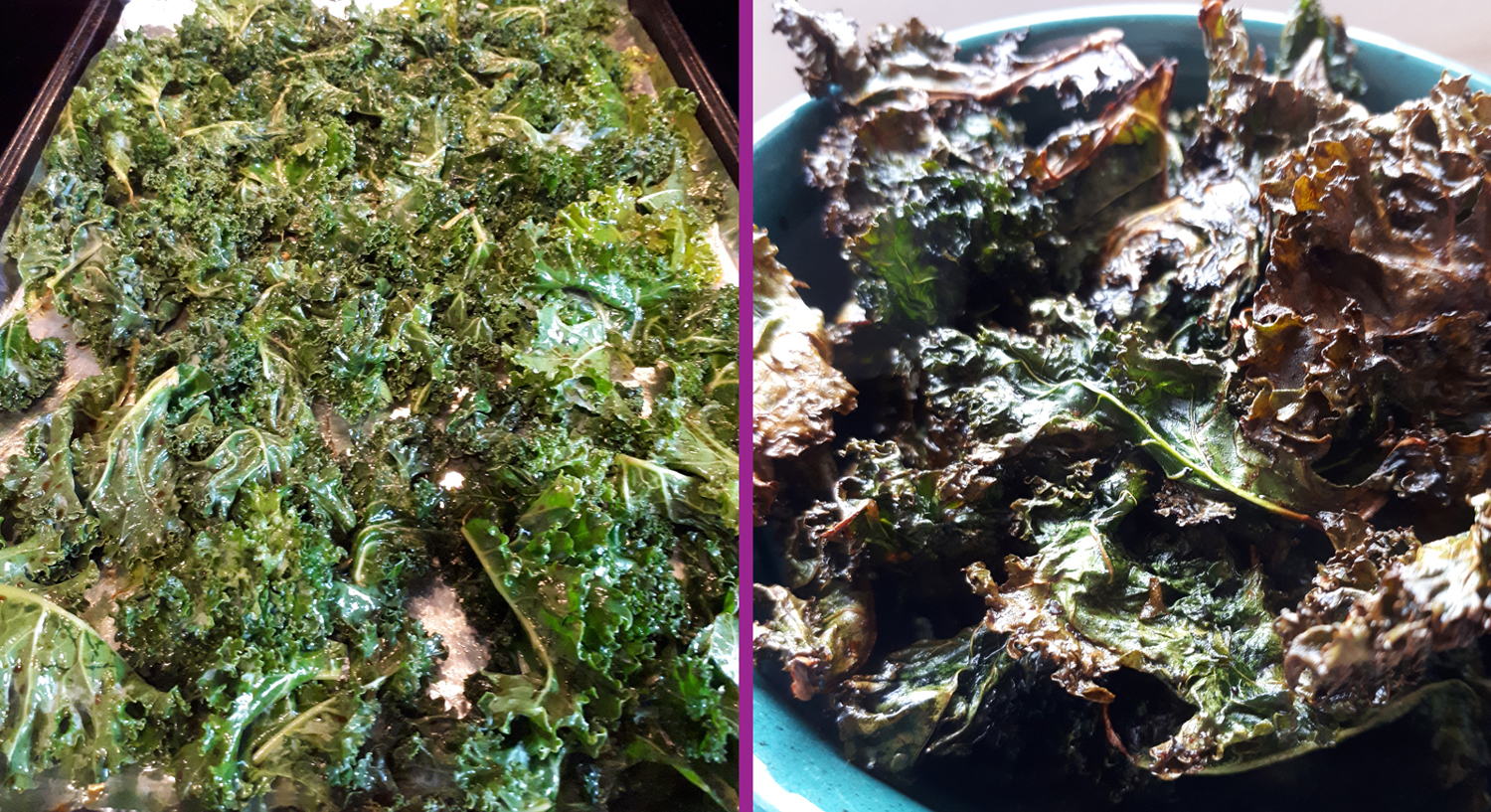 PRO TIP:
Make sure your kale is dry from any water before putting in the oven.
You'll have a better chance at getting crispy bits rather than soggy ones.

CRACKERS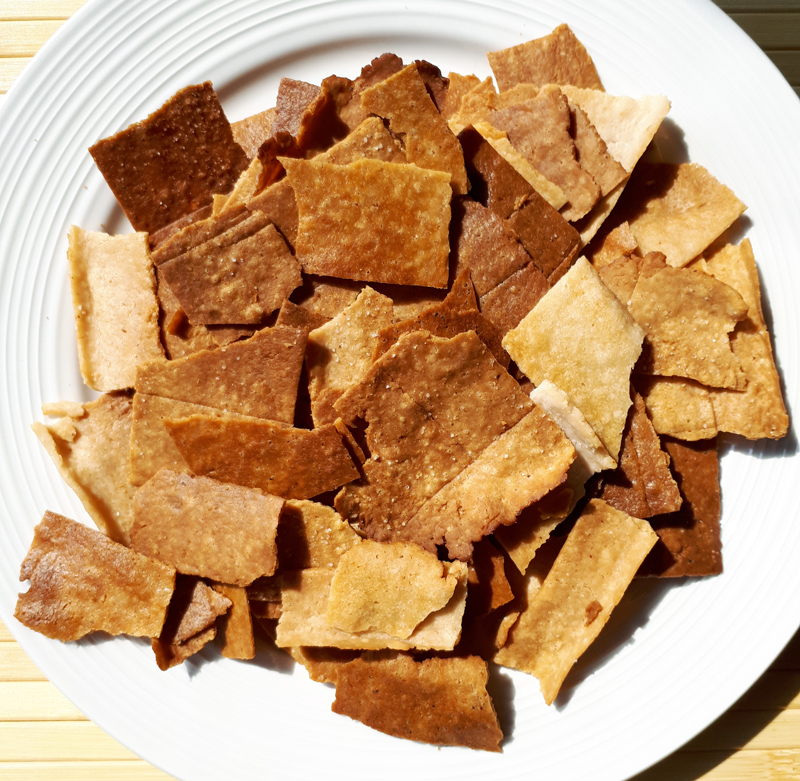 When I was in full Paleo mode a couple of years ago, I would make these quite often. It's another thing you can get really creative with. I always make the "garlic" variation myself, but I've been flirting with the idea of trying to make a sweet version.
I haven't dared yet, but it's there, in the back of my mind. You know, sugar instead of salt, a hint of cinnamon… you know what I mean? And when that's done, I'd be curious to know if it can be eaten like cereal.
In the meantime, I use this recipe to make the crackers, except I add a bit of garlic powder (about a teaspoon, maybe? maybe more? I'd say it all depends on you at this point). Like it says in the recipe, I sprinkle salt (no specific quantity here either, it really depends on how salty you want them) over everything before I put it in the oven. Sometimes, I'll also add dried rosemary to the dough… basically, you can do whatever you feel like since the base doesn't taste like much anyway.
The one thing I know is that it does taste buttery. I don't know how, but it does, despite the fact that there's no butter at all in that recipe.

PRO TIP:
I don't use a rolling pin for this (as instructed in the recipe). I place the ball of dough between two sheets of parchment paper and use a "fondant smoother" tool (see picture above) to press the dough flat directly on the cookie sheet. I cut my dough right there too, no extra manipulation needed. Works like a charm!

FLOURLESS BROWNIES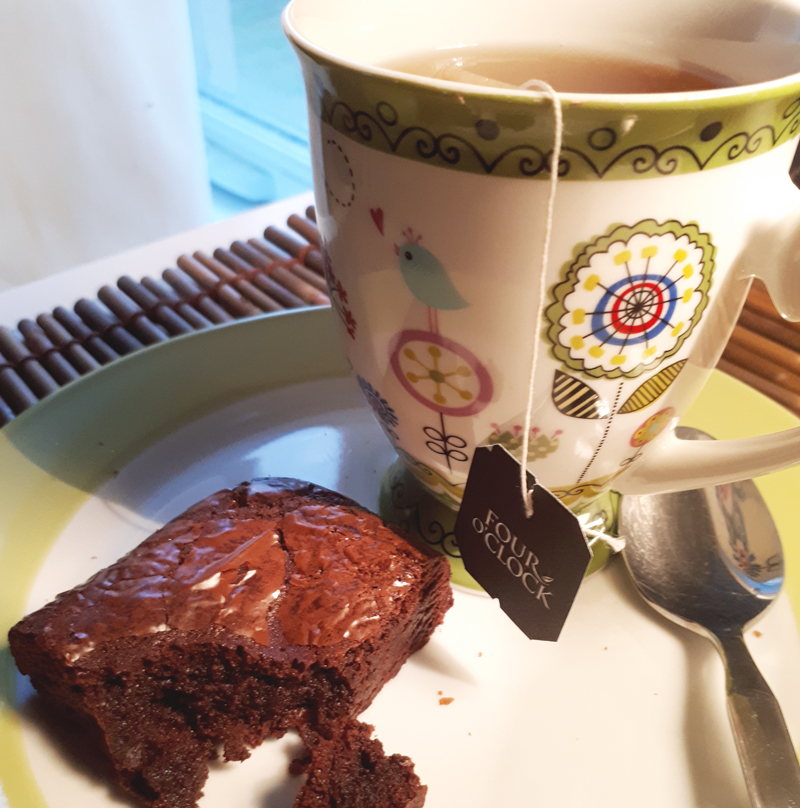 Yeah… you read that right. FLOURLESS brownies. Sadly for those who have issues with sugar, it's not sugarfree. Better sugar than the regular kind, but sugar all the same. Coconut sugar, to be exact.
There's also chocolate, but if you use the right kind, it shouldn't be too sweet in the end anyway. Dark chocolate if you like that, preferably a brand that's not loaded with sugar and milk and all sorts of crap. It exists, I promise!
I swear, those little brownies are just so good, they're almost like fudge. If you like your brownies very caky, you might not like this. I know I prefer my brownies dense and fudgy… and these are one of my favorite paleo dessert/evening snacks.
In my humble opinion, those brownies are better cold than warm. And by that I mean, the right-out-of-the-fridge kind of cold. Pair that with a nice cup of tea (the hot kind) and it's close to heavenly. Not much of a tea drinker myself, but I do like Four O'Clock's Decaf Green Chai a whole lot.
FLOURLESS DOUBLE CHOCOLATE BROWNIES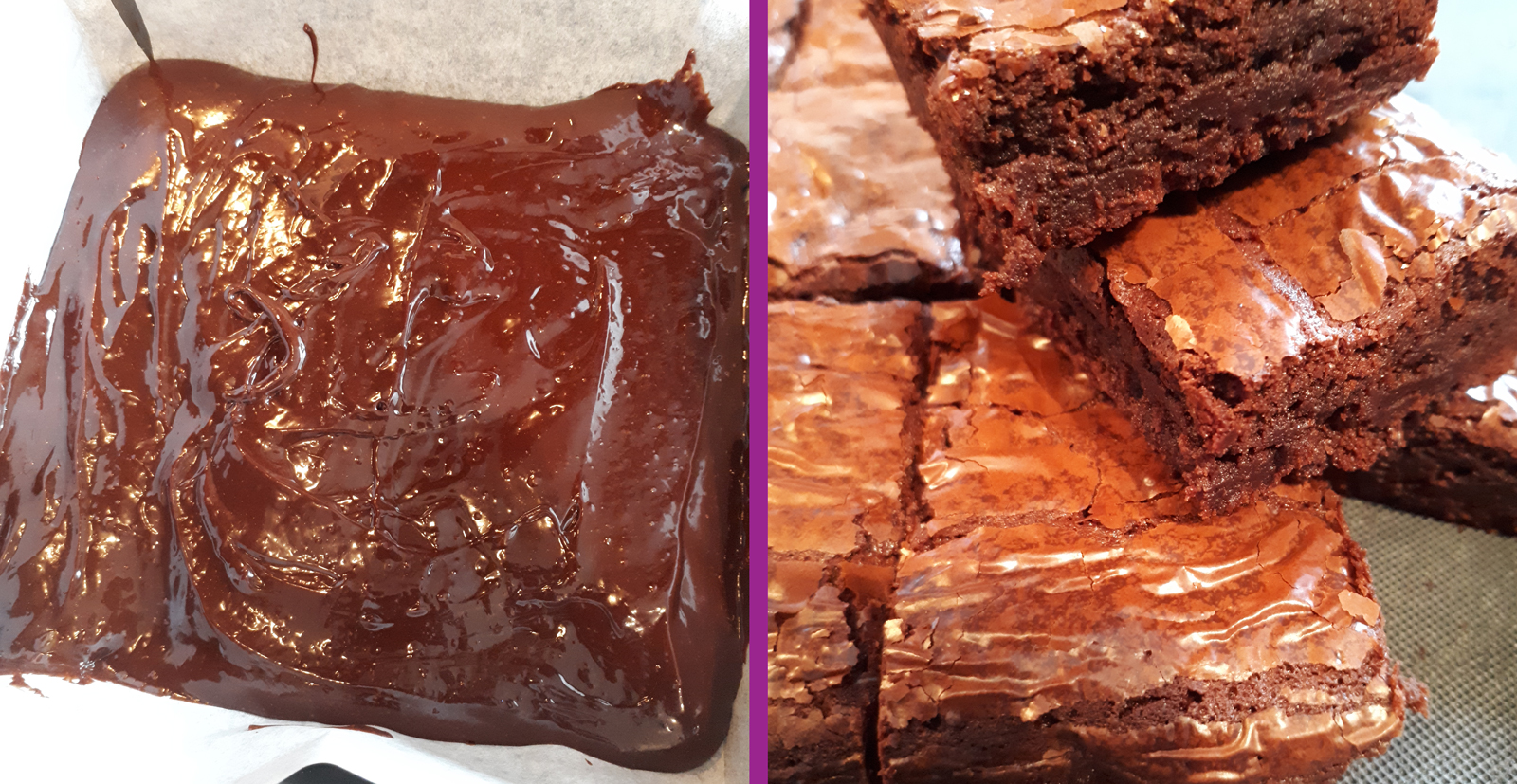 PRO TIP :
The recipe says to use foil and butter it. I prefer to use parchment paper and NOT put extra "fat" on there. I mean, better try to be as healthy as possible, right?

NUTS GRANOLA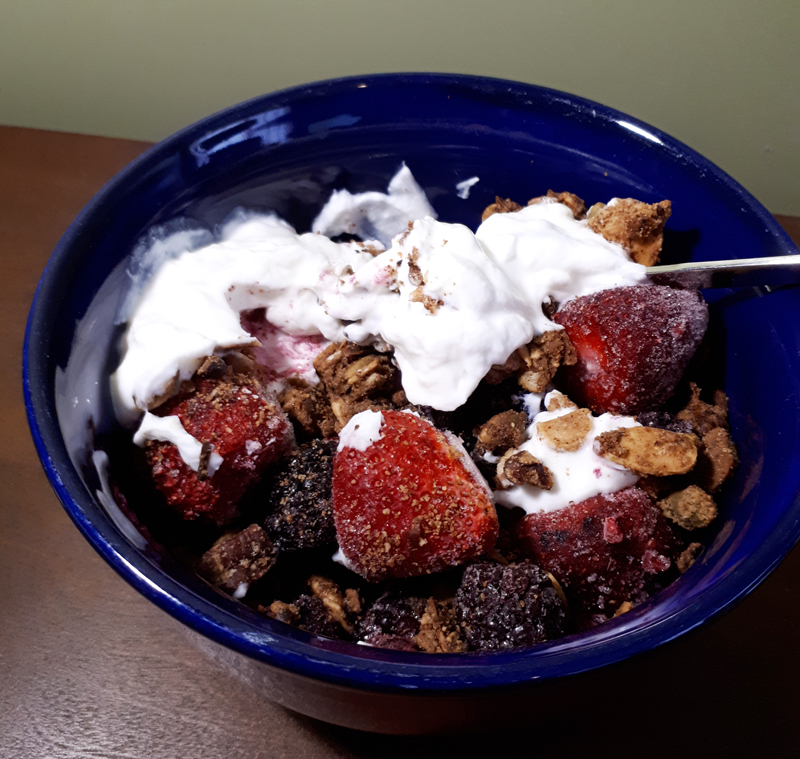 Although it could be eaten as a snack, this is one of my favorite breakfast foods. Well… paleo breakfast foods. That means there are no grains in this "granola". I know, doesn't make much sense to call it that, but I wouldn't know how else to call it since it pretty much serves the same purpose.
Pretty sure if you compare the granola cereals sold in stores with this recipe, you'll be amazed by how little sugar there is. There's only a small amount of maple syrup in there, which is also considered to be a healthier sugar, just like honey.
Anyway, I found this recipe a while ago, but I don't think I've ever followed it exactly, mostly because sometimes I don't have all the exact seeds or nuts the recipe calls for. And I quickly decided I didn't really care. All I make sure of is that the almond meal (also called "flour"), coconut oil, and maple syrup are like in the recipe since it's what binds everything together.
Other than that, I just make sure to respect the overall quantity of nuts and seeds. Where it says to use either pumpkin or sunflower seeds, I do a mix of both. Same with the nuts. The only quantity I usually respect is the one for pecans (I love pecans) and the rest, I go with what I have handy. And it works great.
How do I eat it? Just like you saw in the picture above: Half a cup of the granola over a cup of frozen berries, put it all in the microwave for about 50 seconds, then add a dollop of plain light Greek yogourt. That's a great way to start the day, if I may say so myself.
GRAIN FREE MAPLE PECAN GRANOLA RECIPE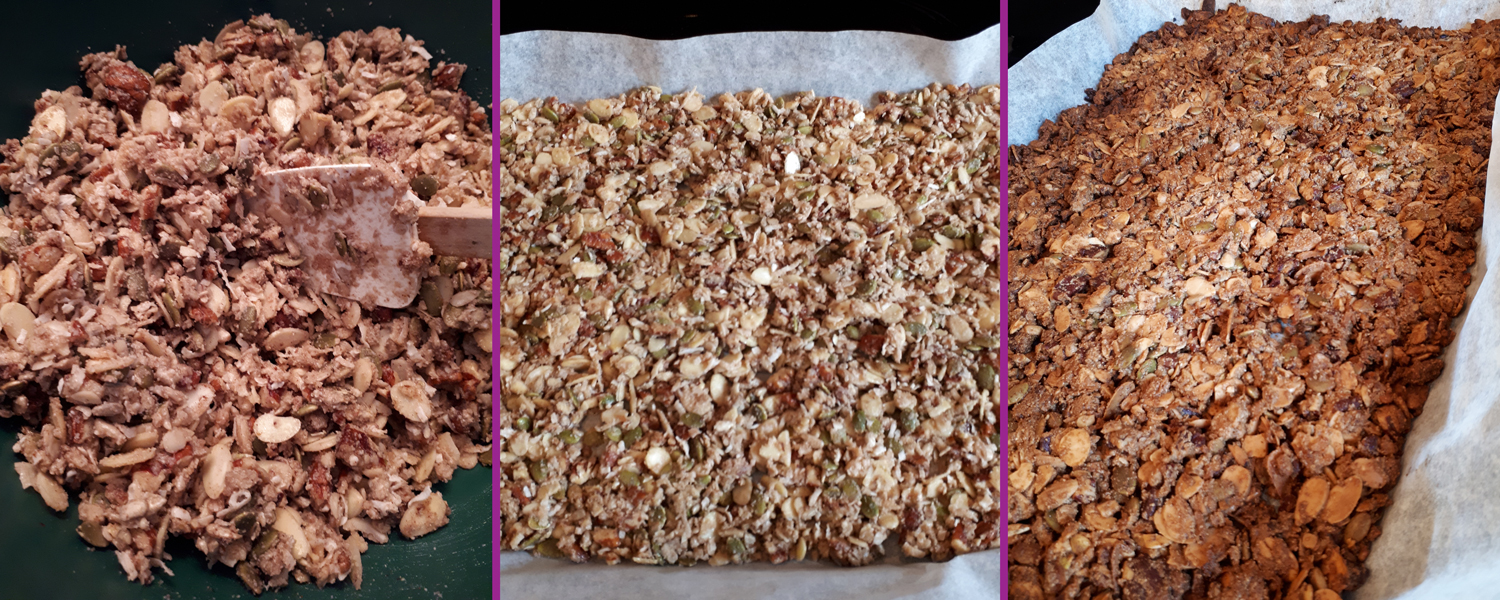 PRO TIP:
Maybe I'm using a cookie sheet that's too big, but at twenty minutes, the granola is right about to start burning. I guess it all depends on how thin the mixture is spread out. Just make sure to keep an eye on it while it bakes.

VANILLA SHORTBREAD COOKIES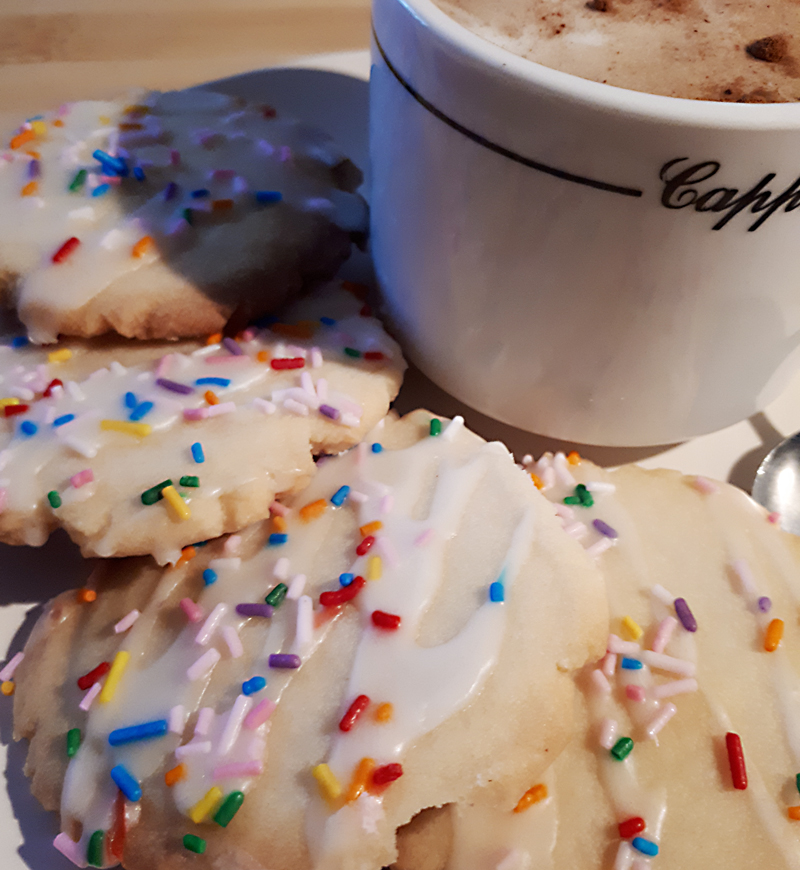 All right… this is the least healthy snack recipe on here. And I honestly don't care. I don't bake those often, and when I do, they're usually to be given as gifts around Christmas time.
See… I'm not a huge fan of cookies. I don't hate them, I just won't go the extra mile for them. I mean… I don't even like Oreos all that much. I don't get the hype, you see?
Still, I know most people like cookies and these here are just as good and buttery as they're easy. You might have noticed by now that easy recipes are pretty much a theme at this point.
And since I needed some pictures, I HAD to bake cookies. Except I only made half a batch because the least I do, the better it is for my non-existent waist! (I may say I'm not into cookies, but if there are some lying around, I'll eat 'em!)
That's another recipe where you can pretty much do anything you want, I would think. Again, I haven't experimented all that much, but let's say you like lemon, I'm pretty sure you can add lemon zest to the dough, then make your icing with lemon juice. They'd be super lemony. And probably very good, too.
I kind of convinced myself here… I'm definitely trying that next time!
SHORTBREAD VANILLA COOKIE
VANILLA COOKIE ICING

PRO TIP:
The icing recipe says to us milk. I'm not fond of using milk for something that's meant to stay out of the fridge for a bit of time. So I use water instead.
• • • • •
If you've ever read any of my fiction stuff, or if you know me personally, you might already know how food is kind of a recurrent theme for me. I think about food often, and I write about it, too. In fiction at least, seeing as I don't have the necessary credentials to have any type of food blog.
Overall, I'm pretty sure I could the food thing an obsession. And not a good one.
Which is where trying to find "healthier" food options is kind of a necessity. And one thing I can't give up on is taste. I don't care that it's the healthiest bit of food out there; if it tastes like crap, I won't eat it.
Now that I've shared my favorite "snack" recipes with you, I'd love to know is what are YOUR favorite snacks. We could be like pals sharing recipes and whatnot. Also, do you try to snack in a somewhat healthy way? Not that I can judge anyone if they don't. I try, but not enough. I really need to get better about this.
It's not my fault if Doritos are soooo good! And, well, when you buy them they're all ready to eat in that little bag of theirs. What's not to like?
(Hashtag-Not-Sponsored… not that I would be against being sponsored by Doritos. Not if it means I can get them for free! lol)
Please, don't hesitate to share your thoughts and/or ask questions. And if you've liked this post at all, don't hesitate to share it with your friends. Maybe they'll like it too! And while you're there, you could also subscribe. Who knows, maybe you'll like the next ones too!
Thanks for reading, have a great day, and bon appétit.
I'll see you next Wednesday!