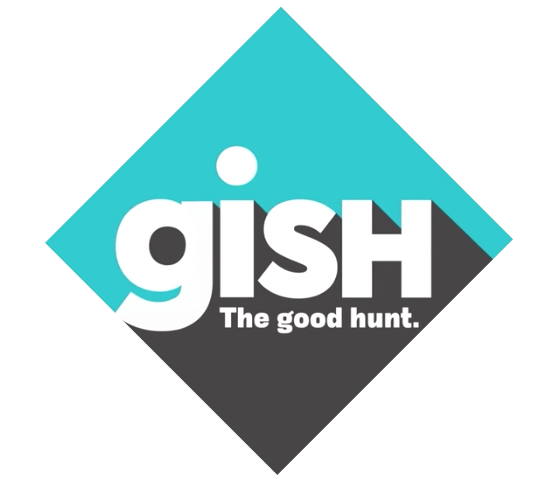 Yeah, you read that right: GISH!
And what the hell is GISH, you may ask? Let me try and explain this to you. (By the way, this is not a sponsored blog post, it's only something I enjoy.)
Let's start from the beginning, shall we? GISH, formerly known as Gishwhes, is an international scavenger hunt started in 2011 by the actor Misha Collins. Once a year since then, people would team up (15 members per team) to complete as many items as possible from a very long list provided by the GISH people. And the event lasts seven days and has been held in August for some years now.
What's the point of it all?
The ultimate goal, for many people, is to win the grand prize which usually consists of a trip the winning team takes together with the instigator of the movement, Misha Collins. (This year, the lucky winners will go to New Zealand… tempting, isn't it?)
For others, like me, it's mostly about spending a week having fun and being creative and all around silly. Because, yes, a lot of the tasks are silly. We (my team and I) also hope to make it in the book (because every year, a book filled with submissions comes out and we can buy it… our team made the book in 2016… yay us!)
But it's not only silly, you see. It's also driven by a big sentiment of love, and acceptance, and charity. You see, the founder also co-founded his own charity and both GISH and RandomActs pretty much go hand in hand. That, and many tasks have to do with helping people, making the world better one small gesture at a time.
The tasks go from helping someone out to creating the weirdest piece of art you can think of. Some tasks will even ask to get together with members of other teams to creates something great together. It may be a race, it's still a massive collaborative effort. It took me a while to decide to join the hunt, and I did so in 2015 by connecting with people on Reddit.
2018 is going to be our fourth year competing together. The team isn't exactly the same as it was the first year, people have come and gone over the years for a number of reasons. Still, there's a solid core of irreducible players and, well… I consider them friends. Doesn't matter that I haven't met most of them outside of the Interwebs, we still been keep contact throughout the year because… yeah, because we're friends!
Like one of my team member told Misha himself earlier this year, we play together and we love each other! Isn't that just… awesome?
So… back to the game. I understand how this whole thing might seem a bit abstract right now. I asked my team permission to share some of the stuff we've submitted over the years and they accepted. Mind you, not everything submitted has to be a picture. Sometimes we also have to send videos. Other times we have to do stuff through social media.
Items also call for many talents, like knitting, drawing, singing, acting, mathing (I know it's not a word, but it's still a talent), writing… anything can happen, really.
It's an international multi-disciplinary event.
10 MANNEQUIN-PIN BOWLING (2017)
It doesn't matter how silly the items are, players need to be resourceful. If you're lucky, you'll have what's needed handy, or you'll know someone that has what you need.
A ROMEO AND JULIET STORY (2017)
Two young virile socks (unmatched) meeting, falling in love, being kept apart and finally ending tragically.
That was such a fun one to do (yeah, that's one of mine). I mean, it has everything I love; story telling, movies, photography, arts and crafts. To say that I jumped on that task the moment I saw it is an understatement.

FEMININE HYGIENE PRODUCTS SCULPTURE (2016)
Either a panda made of sanitary pads – a "Padna," if you will, or a likeness of a totalitarian world leader made entirely of feminine hygiene products.
Feminine hygiene products are a staple in the game, although playing with that type of product didn't go so well at first. It is after all something that too many women can't afford to buy, even though it's a necessity.You'll be happy to know that there were also tasks that consisted of donating said products to shelters.
This being said… isn't that little panda the most adorable thing you've ever seen?
SHE WORE A RASPBERRY BERET (2017)
Wear a beret made out of raspberries as you shop in a second-hand store.
Food… another thing we get to play with a whole lot. Cheese suits, orange peel dresses, kale crowns and hats, banana bikinis… if you can eat it, then I guess it means you can wear it!
Bake a pizza decorated as a Renaissance painting
that would make the old Masters proud.
Here's a food task again, and it's often paired with art. Countless portraits have been made over the years, sometimes with spices, sometimes with rice and beans, even candies had their turn more than once. And if you're lucky like I was, the end product is totally edible.
Bake as much banana bread as you can with "Gishwhes" spelled out in bananas on the top & distribute it to your local nursing home.
Last time I talk about food items… I promise! That's another task I did, even though it should have been paired with the banana bikini item one of my team member worked on. See, we pretty much have the whole Americas between us, there's no way we could have worked together on this. So I went ahead and made banana breads I brought to my mom's nursing home.
THE CHICKENS HAVE COME HOME HOME TO PROUST (2017)
You'd think that the items could be free to be interpreted in any way we choose. Sadly (or not), it is a rule to be as literal as possible with our submissions.
STORMTROOPERS ABANDONED ON EARTH 250 YEARS AGO (2016)
Show a stormtrooper getting back to the basics using a spinning wheel, butter churn, or other old-fashioned tool or machine in a rural setting.
Another staple in this game is the Stormtrooper… each year, they make an appearance one way or another. Luckily for us GISHers, there's a group of Stormtroopersthat is willing to help if we ask nicely enough. That's if we don't already have our own Stormtrooper outfit, of course!
Another task that didn't need any more explanation than that. And yes, those are members of our team sliding down a lubed-up tarp. If you get to the end of the GISH week without getting dirty at least once, it means you're not playing it right!

MISHA & THE QUEEN OF ENGLAND IN THE WILD WEST (2016)
On a desolate, dusty prairie, a ranch hand rescues the local school marm from a runaway horse.
(Drawing: you pick who plays the school marm and who plays the ranch hand.)
That has to be a favorite task of mine… anything that has to do with drawing, actually, is a favorite of mine. Misha and Elizabeth II, Queen of England, have been another classic for many years. Sadly, there wasn't a drawing task with those two in 2017. I have hope for 2018!

TOOTH FAIRY ON STRIKE (2015)
Invent another fairy that provides a service. Dress up as the fairy then caption the image to tell us what you are.
I mean… what a marvelous idea! Who's been stuck without toilet paper before?
We all were, that's who! A Toilet Paper Fairy is no doubt a necessity.
• • • • •
I could go on and on, especially when my team has three years worth of stuff to show. I'll stop here, though. Again, let me tell you this is not a sponsored thing. I mean, people can still join up for GISH 2018 as I publish this, but what I really wanted to do was talk about it, mostly because it's become a huge part of my life thanks the the awesome people I've met.
I think I should say how even though most of the players sprung from the Supernatural fandom (a show Misha Collins has been a part of for the last ten years), many players have never even seen an episode. I'm pretty sure many don't really care to see it either, and that's just fine. If some tasks may have to do with the series or its stars, it's never the majority of it.
I'd even go as far as saying the game has grown beyond the TV show.
I'll be playing it again in a little over a month now and I'm really excited. In preparation, I've been amassing some of my best recyclables in case I'd need to use them. Was very happy I had done this my first year in, seeing as I go to build comfortable living room furniture out of repurposed/recycled materials. Made an armchair out of plastic jugs, coffee cans, bubble wrap, and an old comforter. That was fun!
What I'm hoping for this year (like I hoped it would happen last year) is to see an item that calls for paper maché. Haven't done this since primary school, I'm sure! And I have yet to find a reason to do this outside of GISH! Maybe that's something my niece and nephew would like to do someday! I'll keep that in mind.
I really hope you will have appreciated this new blog post. I had planned to do this way back when, except I took a bit of a break, as you probably saw from my previous post. Please feel free to comment or even ask questions, I'll be more than happy to answer.
Be good, be safe, and I'll see you again soon!